The weather in Sacramento has been extremely wet for the past month and many homeowners have experienced a leaking roof. First things first, when you are experiencing an active leak from your roof or ceiling you want to contain the water. Put a dish or bucket out to catch the water so you don't accrue any further damages. Then you can perform further investigation into where the leak is coming from by looking into the attic. If you can stop the leak at the source that would be great. Oftentimes it may not be the safest option to go out and try to stop the leak in the attic so we recommend that you call a roof inspection company to come out and take a deeper look into the source of the leak.
Most of the companies that inspect roofs can also offer roof repairs as well. These situations are rare in California and mostly happen during the rainy season, but you never want a damaged or leaking roof to ruin a cozy day inside during the wet weather. To avoid this kind of unexpected problem, what you want to do is get your roof inspected regularly or one time before the winter season starts.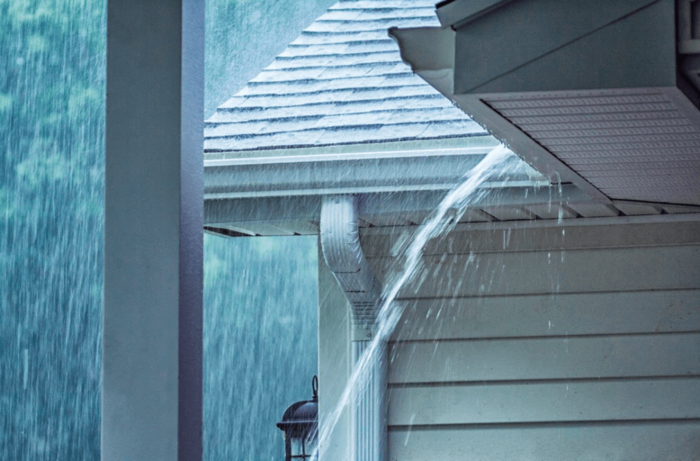 Why is the roof leaking when it rains?
A leaky roof can be caused by several problems: old or worn shingles, roof damage, broken or cracked roof tiles, cracks at the junction of metal or fasteners, metal corrosion, and more. It really depends on the type of roofing material and age of the roof.
Where is the roof most likely to leak?
The very first places to check on the roof before the rainy season are: around the chimney, windows and skylights, ventilation pipes, broken or missing shingles, valleys, and other parts of the roof where 2 angles(roof sections) connect. You want to look out for signs of aging or damages to the waterproofing materials and joint compounds where water may seep through.
Can a roof fall from a leak?
If you ignore the problem and do not fix the roof, then over time, heavy materials saturated with moisture can collapse and cause serious damage to your property. So, yes over time a roof can fall from a leak.
Does homeowners insurance cover roof leaks from rain?
Yes, standard property insurance covers roof leaks due to rain.
How often should roofs be checked?
To be sure that your roof is in good condition, an inspection should be done at least once every two years.
How to choose the best licensed roof inspector?
The best way to find an inspector is to search on Google. On the Website you can find examples of work, reviews and availability of a license.
If you are looking for a roof repair company – North American Home Services team provides all types of home inspection works and a wide range of house repair works. Don't hesitate to call us to ask all the questions you have.
In conclusion, to make sure your home is safe from water leaks you want to get your roof inspected regularly by a certified roof inspector. Keep an eye out for signs of an aging roof, and keep up with standard maintenance like you would the exterior of your home.