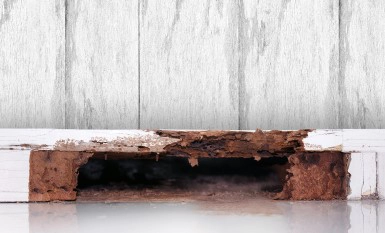 What To Do If You Think You Might Have Termites
February 11, 2020
Swimming Pool Regulations for Homeowners
February 20, 2020
Sacramento's climate is warm and dry, which is very conducive to termite infestations. There are multiple wood destroying organisms (WDO) that plague the Sacramento and northern California area. The three most common WDOs in the Sacramento area are:
Subterranean termites

Drywood termites

Wood boring beetles
Subterranean termites are most common in the Sacramento region.
The most common WDOs we see in Sacramento are subterranean termites. They are commonly referred to as "subs". These termites live in soil and burrow below ground. They only come to the surface to feed on wood or wood-like surfaces or to leave their colony to establish a new one elsewhere. They remain mostly underground.
There are a number of ways to exterminate termites. To eliminate subs, treatment typically involves injecting a specially formulated insecticide into the soil surrounding an infested structure. The insecticide is an odorless substance designed to stick to and infect any termite that comes into contact with it. Then, when the termite reaches the queen (who never leaves her eggs), the poison is transferred to the queen and the queen dies. If successful, within a week or two of being contacted by the insecticide, the colony will die.
Other extermination methods, like fumigation, are not as effective at eradicating subs because they are not designed to eliminate in-ground pests.
Drywood termites and wood boring beetles prosper in Sacramento's relatively dry weather.
Sacramento's dry weather in the fall brings drywood termites and wood boring beetles.
Drywood termites and wood boring beetles actually live inside of the wood that they infest. The only sign of their existence is damage to the wood itself.
Unlike subs, the best way to eradicate these WDOs is via fumigation. WDOs thrive on moisture. Beyond being a poisonous gas, fumigation will deplete moisture in the immediate environment, a proven method to eliminate pests.
When is termite swarm season in Sacramento?
Swarm season is when the termite population is at its peak. In the Sacramento region, subs are most prominent during the spring months, when the weather begins to become warmer and dryer. Drywood termites prosper during the fall months.
"Swarm" refers to the time of year that the reproductive termites look to "spread their wings" and establish new colonies. For subs, they begin building communities, sometimes referred to as "castles". Termites stay in the castle—an area of high moisture—and rapidly reproduce. They eventually leave the castle to find a food source and establish new colonies elsewhere.
In our area, swarms typically happen after heavy rain. Once the air is humid, subs will work their way to the surface and leave their colony to start a new one. Given Sacramento's relatively dry climate, swarms occur only a few days per year. But the termite population is still spread throughout the region, as termites reproduce quickly and are often not discovered until after they have solidified their colony.
If you discover evidence of a termite infestation, it is important to take immediate action to exterminate them. Signs of an infestation include notches or tunnels in wood, hollow sounding wood, and white ants. You might notice flying pests, which is also a sign of termites.
You can attempt to exterminate termites by purchasing products from the store. However, an expert termite repair person will have the knowledge to determine exactly where the termite infestation is and which extermination method is most effective.
If you think that you have termites, the experts at North American Home Services can help! Give us a call or send us a message, and we'll help you determine the best solution for getting rid of termites.